News
In 2003, t
he Texas House and Senate have passed
legislation requiring
Mold Remediation and Assessment Licensing in the form of HB 329
Texas Legislature Online - 78(R) Bill Text for HB 329
. The legislation was set up to standardized procedures and protect the public from the potential adverse health effects of mold.
As the president of the Texas Indoor Air Quality Association, Mr. Gregory Becker was directly involved in drafting this legislation. To aid the public education and components of the bill, Becker has set up individual and group training programs to educate property owners, maintenance managers and insurance professionals about the importance of, and ways to identify and remedy moisture and mold problems in buildings. These programs will teach how to recognize, prevent, control, and correct, mold occurrence and other moisture problems that may adversely affect human health. In addition, Becker also provides training in broader indoor air quality assessment and remedies.
As members of the Texas Department of Health (TDH) Mold Task Force, Becker Engineering, Inc. (Becker) was directly involved in drafting the guidance for mold assessment and remediation licensing that served as the backbone for rulemaking.
TDH
www.tdh.state.tx.us/beh/iaq
produced rules for Mold Assessment and Remediation that were effective on May 16, 2004. Becker played a key role in in TDH rule making (see below).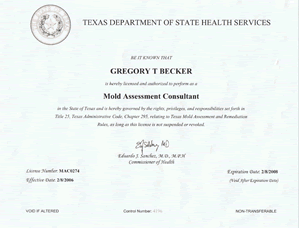 If you would like more information regarding our training programs please send an email to Gregory Becker at gtbecker@beckerengineering.net or call at (281) 497-1522, Toll Free (877) 497-1522: